Micro-financing has played a key role in the rapid economic growth of India. Its contribution has been immense. Private finance companies have made financial assistance within reach of rural youth and women. Private lending has changed the economic ecosystem of the nation for the better. There are hundreds of NBFC establishments in India, and we have compiled a list of the top 7 private lending companies and the challenges they have to deal with in 2023.
A Quick Look at the Top 7 NBFCs in India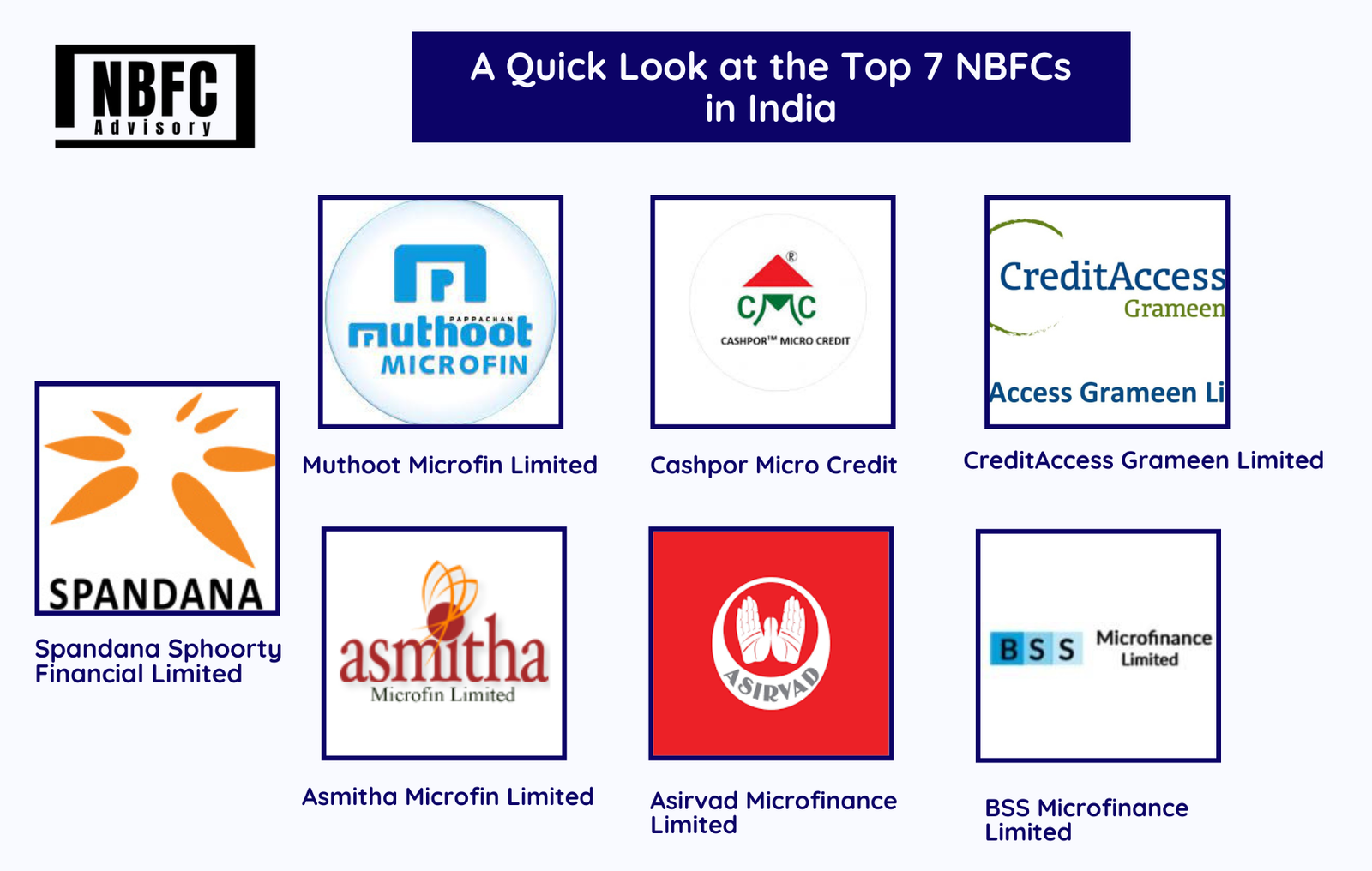 1. Spandana Sphoorty Financial Limited
Headquartered in Hyderabad, Spandana Sphoorty Financial Limited is one of the major NBFC establishments with a wonderful portfolio. This private finance company is known for offering a wide array of loans, including:
Enterprise loan
Generation loan
Small ticket personal loan
Gold loan
Group loan
2. Muthoot Microfin Limited
Another recognized name in the private lending space is Muthoot Microfin Limited. Muthoot has been around for a while, and with an exclusive focus on life improvement loans such as solar loans, education loans, and health & hygiene loans for water and sanitation, this enterprise is committed to giving it back to society. It also offers micro-loans to rural women from low-income households looking to improve their entrepreneurial journey.
3. Cashpor Micro Credit
A subsidiary of Cashpor Financial and Technical Services, Cashpor Mini Credit is a Varanasi-based NBFC establishment. It is ranked amongst the top 10 NBFCs in India due to its micro-credit services to rural women below the poverty line in Bihar, Chhatisgarh, and Eastern U.P.
Cashpor also offers loan services for non-income generation activities and asset acquisition to improve public health and the construction of toilets.
4. Asmitha Microfin Limited
Founded in 2002, Asmitha Microfin Limited offers loans to rural women belonging to the backward sections of society. Its presence in 13 Indian states speaks volumes about its footprint. This private lending company strives to offer loan services to women who do not have access to the standard channels of banking and finance.
5. CreditAccess Grameen Limited
Founded in May 1999 in South Bangalore as a T. Muniswamappa Trust project; however, CreditAccess Grameen company took it over. CreditAccess is committed to offering a whole host of loan options to the poor in rural areas. Home improvement loans, family welfare loans, and income generation loans are offered by CreditAccess Grameen Limited. The private lending company has branches in more than 230 districts of India. With over 900 branches and 29 lakh borrowers, CreditAccess Grameen Limited is considered one of the top 10 NBFCs in India.
6. Asirvad Microfinance Limited
Asirvad Microfinance Limited is another reputed private finance company that's serving its vast clientele across 22 Indian states. From microloans to income generation program loans, product loans, and SME loans are offered by Asirvad Microfinance Limited.
Asirvad Microfinance Limited is ranked amongst the top 10 NBFCs in India because of its low-interest rates and loan offers.
7. BSS Microfinance Limited
BSS Microfinance Limited is a 100 percent subsidiary of Kotak Mahindra Bank. This private finance company made its inception in 1999 as a trust. It has a presence in four states of India, which are M.P., Maharashtra, Karnataka, and Tamil Nadu. It offers group loans to women under a group lending program and thus helps them uplift their quality of life.
Challenges for the NBFC Establishments in India
Overborrowing is one of the major challenges faced by the microfinance industry these days. The CRIF High Mark data vouches for the fact that the average microfinance loan size has increased quite significantly in the past 2 years. Borrowers tend to borrow from more than one lender in tandem. RBI's regulations clearly state that the total loan amount a loan seeker can avail in the initial cycle is Rs. 60,000 which increases to Rs. 1, 00,000 in the next cycle.
It has not been a hunky-dory for the MFIs as they find it difficult to grow minus any support from anchor investors. Besides, banks have made their presence felt in the microfinance space and several banks have partnered with MFIs strategically.
Many microfinance institutions decided to convert themselves into small finance banks which allowed them to lend money at higher interest rates.
The Bottom Line
The private lending space is quite promising especially due to the increasing financial rise; however, there are certain challenges that microfinance institutions have to face.
If you have any questions about forming an NBFC, feel free to connect with NBFC Advisory.