The contemporary lending environment is going through a paradigm shift. It is way better than the traditional lending process finance and loan companies used to follow. All thanks to rapid digitalization that has eliminated inconveniences that bothered both lenders and borrowers in equal measures.
Conventional ways of lending required the borrowers to submit applications in person and visit the institution multiple times. Digitalization has not only reduced the need for manual verification and paperwork but also automated a myriad of processes. Digital lending is no longer a good to have for finance and loan companies. It has become necessary as you see more and more digital lenders entering the market.
Let's take a quick look at why your NBFC must have a digital lending facility.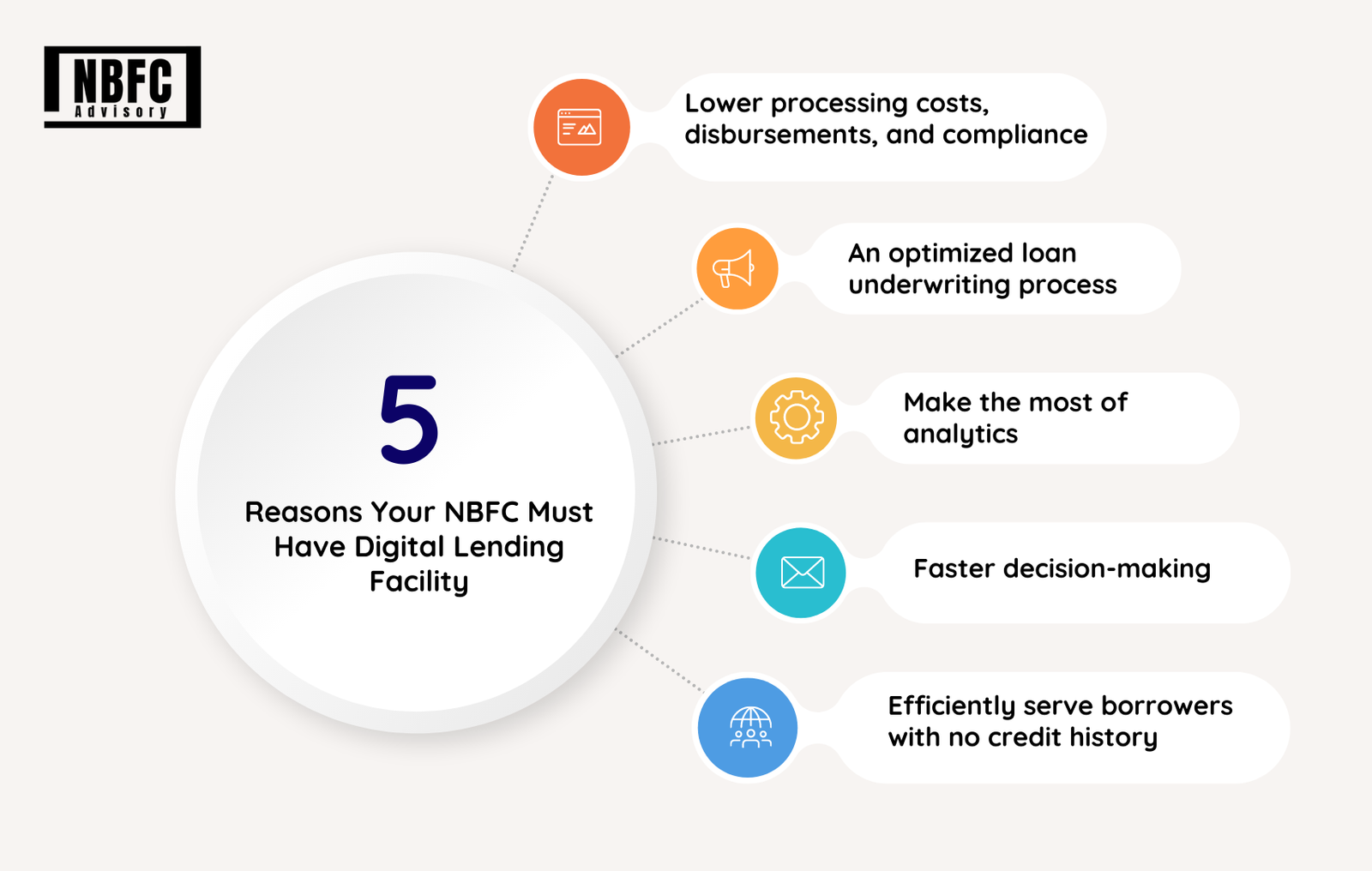 1. Lower processing costs, disbursements, and compliance
The rapid technological advancement in the lending landscape has helped reduce processing costs by a considerable margin and made disbursements faster than ever before.
Enhanced compliance is another major benefit during the repayment period for financial institutions offering loans.
2. An optimized loan underwriting process
For better returns, financial institutions can leverage underwriting efficiency. Digital lending procedures enable borrowers to submit key information, such as documents and other credentials, in digital form, which eliminates the need for manual procedures and errors.
Since the digital application process is far less time-consuming financial institutions can effectively utilize this time to acquire new customers and retain the old ones through better customer relationship-building activities.
Artificial intelligence and machine learning have certainly revolutionized the way lending would work. It has enhanced the underwriting process. Cloud integration helps synchronize the data obtained from the credit bureaus, risk services, and alternative credit scoring, which can be further utilized for decision rules. Decision rules applied through automotive technology are more effective than human judgment and help digital lenders remain compliant.
3. Make the most of analytics
Leverage the immense power of analytics by achieving consistency, reliability, and quick loan disbursements. Digital lending empowers you with a streamlined loan disbursement procedure. Besides, you can maintain superlative portfolio performance and achieve improved ROIs. By harnessing the potential of analytics, the lender can create a stock house of an applicant apart from fostering reliability.
4. Faster decision-making
We are living in a world that just cannot wait. Instant loans are the new normal, and operating in such a fast-paced world calls for quick decision-making. Applicants barely have patience, and quick decision-making helps. Digitalization helps finance and loan companies to quickly run credentials and documents through the verification and disburse loans instantly based on the decision.
5. Efficiently serve borrowers with no credit history
One of the major challenges for any lender is to serve a borrower with little to no credit history. Heavy reliance on credit scores for loan disbursals would make lenders reject such applications outrightly, which isn't the case with digital lending.
NBFCs can benefit big time by making optimum use of alternative credit scoring data in digital lending to serve first-time borrowers. On the one hand, digital lending helps NBFCs acquire more customers, and on the other, it facilitates easy loan access to first-time borrowers.
Conclusion
Digital lending might be a new concept in India; however, it has made its presence felt in a very short period. It is here to stay, and if NBFCs overcome the fear of short-term inconvenience because of the exposure to an all-new environment, and set-up costs, among others, they will surely reap benefits in the long run. Having a digital lending platform is a win-win for both borrowers and non-banking financial companies.