Introduction
Why do we need NBFC when we have Banks?
Let's take a quick example – Why do we need Jio, Airtel, Idea, and others when we have BSNL? The same goes here. Every bank in India provides specific bundles of financial services, while their primary activity is lending. For example, an individual must submit his past three years of IT returns, KYC, CIBIL, and many signatures to get a loan.
But NBFCs don't get into the hassle. They provide instant loans faster than any bank. Following the various restrictions on banks, the banking sector needed a free environment to develop better and vast alternatives to nurture fast financial transactions.
So, that's how NBFCs are believed to be the best alternatives to banks regarding proactiveness, personalized, innovative financial solutions, and flexibility in terms of set-up and registration compliances.
Being that said, it's time to make your move. Without further ado, let's dive into the blog to learn – "Why NBFCs are new Banks?".
Reasons why NBFCs can be the New Banks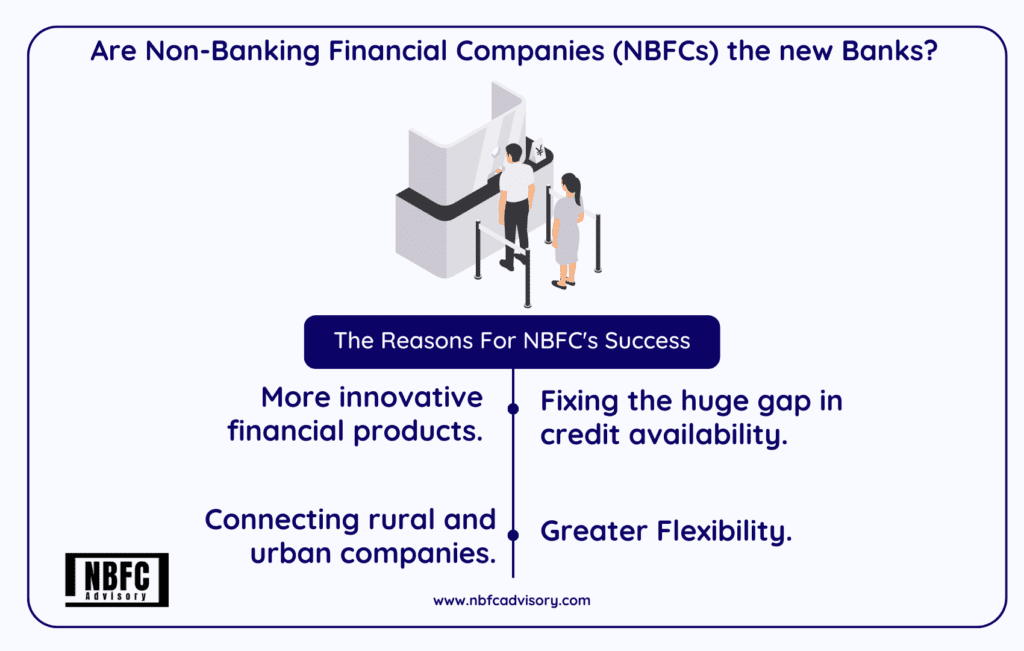 1. Vast innovative Financial products
NBFCs have varied financial services and products in their arsenal more than banks.
Famous among finance professionals, NBFC has also fine-tuned their selling campaigns by personalized financial offers for the respective TAs (target audiences) since they invest highly in R&D.
Their expert personnel provides an incredible grip and analysis over TA's pain points and thus develops in-demand products to launch in the market.
With a single product and dedicated business model, time and again, NBFCs are able to churn better customer relationship status with individualized servicing. And that's what sums their reason for unbeatable growth metrics much more reasonable.
For example, Famous NBFCs and their specific target segments:
HDFC Ltd: Home Loans
Credila: Education Loans
Muthoot Finance: Gold Loans
Shriram Transport Finance: Vehicle Loans

Their target market is the segment who want a quick, hassle-free loan and are willing to pay for the same- so the NBFC sector understood it entirely and addressed them with advanced technologies.
2. Fixing the Huge Gap in Credit Availability
A surprising fact is that "Only 53.9% of Indian individuals have access to banks".
While the challenges come in banking sectors, the fewer restrictions/constraints and documentation needs with lower interest rates make NBFCs more appealing.
Together with high risk-taking ability, NBFCs are more efficient in fulfilling the diverse financial needs of those customers who don't have access to banks and their services. NBFCs help dilute lending norms, cater to the segment with a credit rating below 750, and charge reasonable rates to compensate for their own profits.
Hence, they are making 100% financial inclusion a viable goal.
3. Connectivity among Rural and Urban Companies
Every economy's growth highly depends on the success of their newly discovered startups – as they aid in creating new employment opportunities and nurture balanced competitive dynamics globally.
The NBFCs provide vital support by giving loans to early rural startups. Plays a crucial role in meeting the credit demand unmet by traditional banks and directly providing loans to their clients without the involvement of intermediaries.
Along with this, NBFC P2P (Peer to Peer) lending has been thriving with greater margins and facilitating loans at much lower cost – thus, catering to small-sized businesses, start-ups, and MSMEs in urban as well as rural areas which are slowly mushrooming and are dependent on funds offered by NBFCs.
4. Greater Flexibility
As NBFCs come under the umbrella of the shadow banking system, it makes them less regulated than banks.
Generally, NBFCs raise capital by issuing financial instruments such as Shares, Debentures, Certificates of Deposits, and Borrowings. Since they don't lend using the money received from the Public (Depositors), they are subject to fewer controls by the side from regulatory bodies.
Also, they don't have statutory reserve ratios, can open branches at will, have far lower reporting requirements, have higher control over rates to be charged, and so on – which makes their whole structure less rigid and more flexible.
A few unique NBFCs' functionalities and aspects to traditional Banks:
NBFCs operate under the Indian Companies Act 2013, where as a bank is registered under the Banking Regulation Act 1949. So, it is obvious to have a unique set of specialties in terms of services, systems, and ways of working or regulating. So let's discuss them as well.
NBFC cannot accept demand deposits, but banks can.
NBFCs do not make part of the payment and settlement system and cannot issue cheques drawn on themselves. However, banks can do this.
NBFC cannot issue Demand Drafts like banks – and it creates credit, whereas NBFC is not involved in credit creation.
Foreign Investments up to 100% are allowed in NBFC. Oppositely, only banks of the private sector are eligible for foreign investment, which should be at most 74%.
The deposit insurance services of Deposit Insurance and Credit Guarantee Corporation are not available to customers of NBFCs, unlike the case of banks.
FAQs
1. How are NBFCs better than banks and helping the financial industry?
The NBFCs are considered better alternatives as they have Competitive interest rates than most banks. And they're helping the financial industry with services overlooked and avoided by the traditional banking approach – thus, furnishing vast financial products, meeting unmet needs of rural small startups, and supporting greater credit availability and flexibility.
2. Who regulates the NBFCs?
The Department of Non-Banking Supervision (DNBS) has complete responsibility for the regulation and supervision of Non-Banking Financial Companies (NBFCs) under the regulatory – provisions contained under Chapter III B and C and Chapter V of the Reserve Bank of India Act, 1934.
3. How to set up your NBFC – Registration, and Licensing?
To start your NBFC, it needs to register from the Registrar of Companies and obtain a license abiding by RBI u/s 45-IA under the RBI Act, 1934. We at NBFC Advisory, with professional aid in NBFC registration from application filling to registration obtainment – handle everything for your NBFC to kick start! And should have Net Owned Funds of ₹ 10 crores. Get all the access to information about NBFC registration and licensing by clicking here.
How we can help!
We at NBFC Advisory, with professional aid in NBFC registration from application filling to registration obtainment – handle everything for your NBFC to kick start!
With more than 15 years of experience in NBFCs-related operations, legal and strategic advisory, and other services — Our team of professionals can be your trustworthy partner and a one-stop solution in this ever-changing digital banking era. This way, you'll never miss an opportunity.
If you're a fintech looking to fulfill your compliance needs and seeking overall robust financial management, check out here.