Have you heard of this quote, "If you deprive yourself of outsourcing and your competitors do not, you're putting yourself out of business"? A very famous one by Lee Kuan Yew, 1st Prime Minister of the global financial center, Singapore.
In this digital era, when every other job has become virtual and can be outsourced, even high-level jobs are no alien. One of those high-level jobs is Virtual Chief Financial Officer (VCFO). The Virtual CFO market revenue was Million USD in 2016, grew to Million USD in 2020, and will reach Million USD in 2026, with a CAGR of 2020-2026.
Every other business is hiring them or planning to hire them in the near future. Virtual CFOs are people or entities with high financial skills and expertise and offer their assistance just like CFOs but work from a distance, i.e., virtually.
In this blog, you will learn the 7 topmost advantages of hiring a VCFO at your financial firm or NBFC and why you should also hire them.
VCFO Vs. CFO — Benefits of hiring a Virtual CFO
There are several benefits of hiring a virtual CFO over a CFO. The seven topmost benefits are as follows:
1. Expert team benefit
VCFOs work with firms in different fields with different financial needs that help them gain diversified knowledge of their work. As well as their team is also very well experienced in coordinating with different teams.
2. Niche expertise
VCFOs operate with financial resources, books, accounting, etc. And they mostly work with small and medium-sized firms in specific industries and areas where they assist in almost all financial-related tasks, and that helps them gain niche expertise.
3. Best-in-class customer experience
Having VCFO assistance provides the firms with robust systems which eventually smoothen the customer interactions and experience with the company – churns greater trust among customers and the public.
4. Cost-benefit
VCFOs can be available at your business' convenience and personalized need – whether it's weekly or fortnightly or hire or pause requirement. This will not hamper your firm's annual budget with exorbitant charges of hiring full-time in-house personnel at a c-suite executive level. That makes it very suitable for small businesses and entities as they've plenty of resources already available to them.
5. Strategic Approach and Accurate Financial Reporting
Moreover, A Virtual CFO brings in a specialized strategic bent of mind and adds value to the business with GAAP-qualified systems and approaches. They'll also guide your bookkeeping department to standardize everything across the board.
6. Credibility
While hiring Virtual CFOs, finding proven social proof is easy as they have records and feedback they got from their previous clients. Also, a skilled and experienced virtual CFO has tons of proven methods and strategies under the umbrella, which can keep your business always staying ahead of your competitors. Plus, they have a rich network of individuals and connections who can help your business grow and build solid authority as a thought leader.
7. Shorter Learning curve and higher adaptability
Virtual CFO usually have a lot of experience with onboarding at new companies, so they know how to get into a groove and maximize their efficiency as fast as possible. They are timeless experts when it comes to assessing your company's current state and proceeding accordingly without delays.
How a Virtual CFO helps to scale your NBFC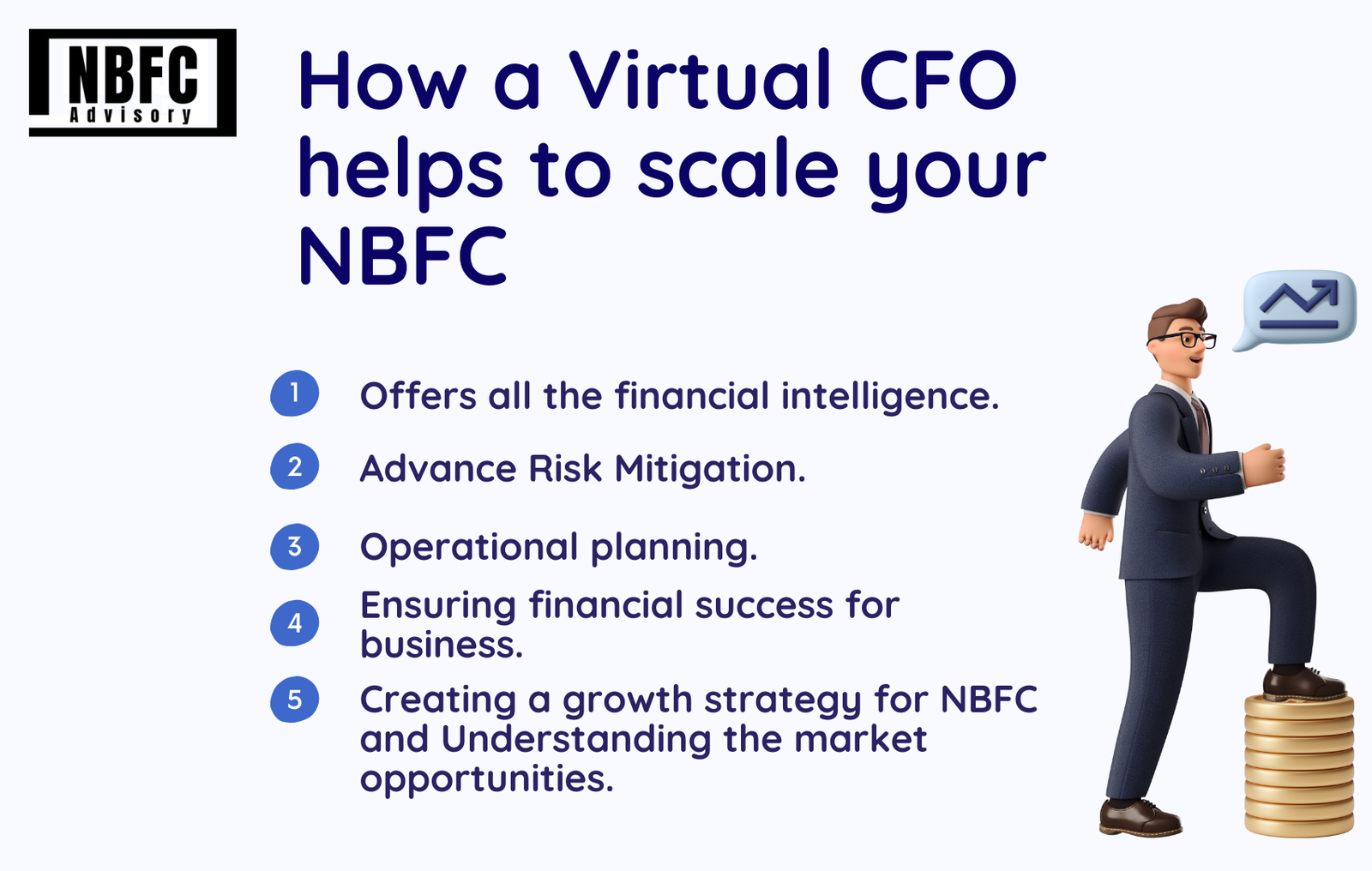 1. Offers all the Financial Intelligence
A VCFO offers various services like budgeting, keeping an eye on market trends, concluding the books, budget forecasting, financial and strategic planning, and financial modeling.
Small firms also perform bookkeeping and reconciling, but sometimes they can easily oversee complaints related to accounting, auditing, payroll, tax, etc. So a Virtual CFO makes the job easy for you.
2. Advance Risk mitigation
As we know, financial failure is the real challenge for early-stage and small companies/NBFCs. So it becomes the most crucial to handle it with expert hands. The fast-paced technological innovation in the fintech and NBFC world makes it imperative – that businesses thrive with minimum setbacks and fill gaps in strategic deployment.
More businesses fail when they are slow to analyze possible market risks. Here the role of Virtual CFO helps a lot with a cloud-based solution – it makes it faster and, in a true sense, more proactive, which also lowers the IT risk!
3. Operational planning
Operational planning has become frictionless with the latest systems and technologies – thus, handling and supervising personnel at the workplace is not as rocket science as it used to be.
So you can also manage your virtual personnel with ease now.
4. Creating a growth strategy for NBFC and Understanding the market opportunities
Virtual CFO services providers have the resources to create robust business strategies as per the market and curate KPIs accordingly.
And, if you want to run your business successfully, it is quite important to explore the areas of market trends. How can you leverage those profitable opportunities much more proactively?
A VCFO will assist you in understanding those competitive marketplaces.
5. Ensuring Financial Success for business
A knowledgeable Virtual CFOs has years of experience and skills to uncover money leaks, company restructuring, and tax deductions – and all the financial worries which might keep you awake at night.
The services can easily streamline the back-office task and assist you in having better financial control and transparency, including various tools and ML-backed software and systems.
With this, you will clearly understand your business requirements and can plan accordingly to create the profitable business of your dream.
FAQs
1. What type of services does VCFO offer?
A virtual CFO will remotely perform all the duties and responsibilities of a full-time CFO on a part-time basis. They use cloud computing and automation to monitor the financial situation of your business. They also offer financial advice and guidance on business.
2. What quality should a VCFO have before hiring?
Before hiring a VCFO, you must properly communicate your financial needs and what services you want them to provide. Then you should check their social proof of working with other firms and finally always have a contract in place.
3. Who needs a VCFO?
Small or medium size firms, be it fintech or NBFC, are always on a short budget and want fixed costs as low as possible. So, having an outsourced service provider with the flexibility of choosing services as and when required can be a game changer for them.
How we can help!
With a VCFO, you can focus on your core business without letting your financial needs suffer. Virtual CFOs are generally known to handle the financial needs of the firm way better than CEOs.
With the right one, you can handle your business in a way better manner and can take it to new heights. Also, you will handle risks in a planned and strategic manner.
We at NBFC Advisory have more than 8 years of experience in NBFCs related operations, takeovers, and licenses, among other services. Our professional team can cover every financial need, from day-to-day financial management to expert regulatory advisory to fundraising.
In whatever you need to strategize your financial needs, our team is just one step away. Book a Call NOW!