The data speaks for itself! Buy Now, Pay Later (BNPL) solutions are predicted to reach 20527.234 billion Rupees in revenue by 2025, expanding at a rate of 40% annually.
The paying trend gained popularity due to overall spending by consumers who strongly opposed taking on debt during an uncertain economic climate.
But there are a lot of comforts that are driving the buzz surrounding BNPL's ascent to power. The entire retail lending business is reforming.
Consumer behavior has improved by means of digitalization, which has forced businesses—including those in the commercial banking or Non – banking financial companies (NBFC) sectors—to reconsider how they operate.
Traditional banks urgently need to build better, more personalized experiences in order to offer a cutting-edge digital platform with the rise of e-commerce services.
What is Buy Now Pay Later?
Do you buy stuff from online sites like Amazon and Flipkart? If so, you must have noticed the "Buy Now Pay Later" (BNPL) option when making your payments. If you haven't used it, you probably have many questions. What is this option, who is it for, what are its advantages, and should you choose this option?
With this kind of payment, you can buy things even if you are short on cash. Let's say Shreya plans to spend Rs 10,000 on a mobile phone on September 15. However, she has a small amount of money in her bank account and does not hold any credit cards either.
In such a situation, she is unable to buy a cell phone. The "Buy Now Pay Later" concept is the answer to this issue. Shreya can buy the phone with the help of this option. She can return the money or have it converted into EMI when her salary is sent into her account at the end of this month.
Finance companies or NBFCs provide you with a short-term loan in the form of Buy Now Pay Later. Shreya will not have to pay any interest if she returns the money on October 5 (the payment due date) after purchasing the phone on September 15.
Finance companies provide loans for purchases in this manner through this facility. This service is useful for people who do not have a credit card and need to purchase something quickly. Like when your phone breaks down unexpectedly, you may have to buy a new one because many of your tasks will be halted.
'Buy Now Pay Later' an Impact on Customer's Shopping Journey.
BNPL allows consumers to keep shopping despite having credit at the time of purchase. This solution has a significant role in the decision process; it already provides customers with a time frame they did not have.
This option may even inspire the consumer to buy more because they will only have to spend a few weeks or months later.
Furthermore, BNPL fintech companies and NBFCs have successful online marketing tactics and customize consumer experience, providing benefits such as bucket lists, notifications, and special offers, among many others.
BNPL shows a revolution in the consumer journey and has the potential to go beyond simple loans. This model provides a more equal and fair platform for consumer expenditure than credit and debit cards.
Research shows customers will use BNPL tools to make approximately 919 billion dollars in retail spending this year.
The BNPL has a very well-defined double strategic plan, as it can grab, in the open market, the more competent and relatively young sections that do not want to own a credit card these days, and an aging population that can simply afford your shopping afterward, without any need for credit record, through BNPL and its procedures flexible payment options.
Need for Regulations for Buy Now Pay Later
However, there is a drawback: the truth is that somehow this concept has not yet been controlled and inspires an increase in customer debt, owing to any lack of transparency regarding the conditions relating to products.
The main drawback for short-term debt holders, for example, is how they can evaluate the cost of debt that customers incur.
Regulatory banking institutions (Government & Private Banks) are also concerned about the possibility of the Buy Now Pay Later diverting cash flow from other sources, such as credit and debit cards.
The solution review argues that uncontrolled financial projections encourage people to spend much more than consumers can afford.
Experts also point out how these solutions do not give customers enough time to connect with the process, potentially raising the number of debt holders.
'Buy Now Pay Later' vs credit cards?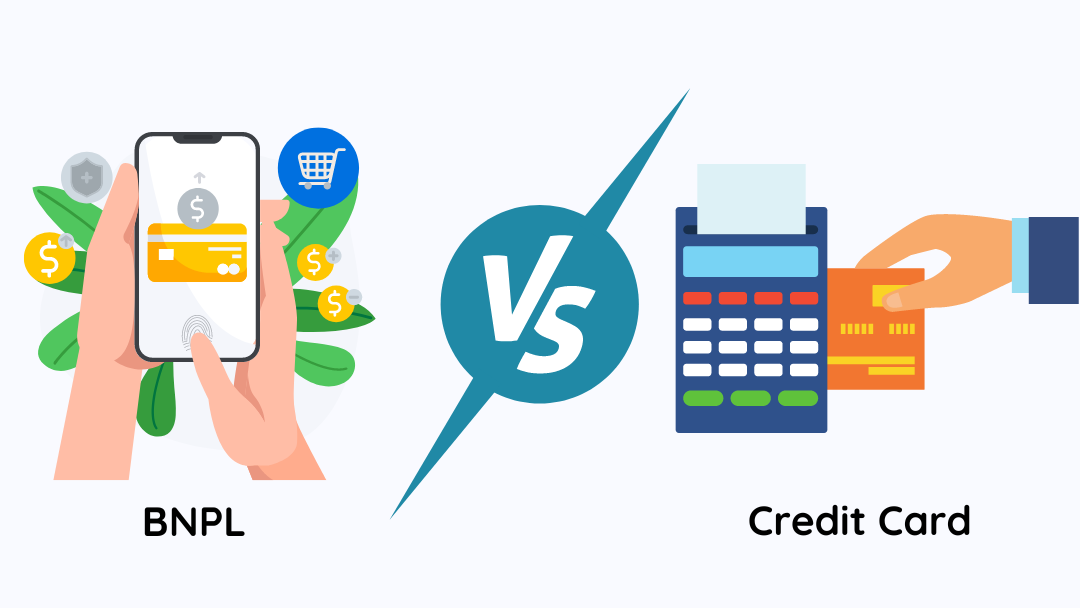 The primary benefit of the "Buy now pay later" option is that it offers a one-click credit facility at the point of purchase on retailer web and mobile. One can use this quick credit option from BNPL to make immediate transactions and settle back later.
1. Pricing strategy that is open and affordable:
BNPL often uses a pricing strategy that is fair and affordable because many of the deals are subsidized by manufacturers to give customers the best value possible.
2. Rapid sign-up and entirely digitized process:
Anybody living in any location across the nation is welcome to sign up and use the platform. On the other hand, credit cards need weeks and a tonne of documentation, and one can quickly get accepted and begin transacting with online KYC.
3. Quite Reachable:
Credit cards are considered for individuals with high credit scores, those living in major cities, and those who earn a salary. In India, only Three crore people use credit cards.
By structure, 'Buy Now Pay Later' is intended for a much larger market, including those who have never used credit before or who have a short credit history.
Most BNPL participants utilize a specific formula and alternate statistics to accept these consumers. Additionally, Indians are switching from credit cards to BNPL.
4. BNPL companies or credit cards with a higher interest rate:
Credit cards are perhaps the most popular type of credit, as is common knowledge. Missing payment interest rates can reach 48 percent, but BNPL businesses typically charge between 0 and 24 percent interest depending on the merchant, duration, and debtor.
Red Flag: Thing to Remember before using 'Buy Now Pay Later'
Despite all the advantages and tempting qualities, industry experts advise users to exercise caution while using the BNPL service.
Although it varies from lender to lender, late charges or fines are assessed as one-time fees that are typically not compounded, which is a striking contrast to credit cards. It is crucial to remember that BNPL is still fundamentally a loan, so, BNPL providers may record a borrower's repayment history to credit bureaus.
According to experts, because most BNPL providers record repayments to credit bureaus, it will still be the customer's responsibility to make payments on time to maintain a high credit score, just like with any other debt.
Conclusion: Should I Buy with 'Buy Now Pay Later'?
Well, really. The ideal approach to pay for your orders is in full at the time of making them. But BNPL can be a fantastic choice if you do need to finance a transaction.
By making full payment, can only be certain that you won't be charged late fees and interest instead of using credit, it's smart to put money into a savings account every week or month till you have enough cash to purchase the product if you can't afford it up front.
Short repayment terms and interest-free deals from BNPL reduces interest cost and keep you from accruing debt. You must, however, confirm that you can afford the agreed-upon payment plan to protect your savings account and your credit score.