Introduction
A non-Banking Financial Company (NBFC) is an entity that is very similar to banks and offers bank-like services. It provides loans and advances, engages in the acquisition of shares/bonds/debentures/etc., and offers services like hire/purchase, leasing, and insurance, among others.
According to RBI, an NBFC license is required to commence the aforesaid financial activities by the company. But, to register a company as an NBFC, i.e., to acquire the license, is a costly affair. You will be required to have at least a Net Owned Fund (NOF) of INR 10 crores. Along with that, if you plan to hire professional consultants, their fees can leave a big hole in your pocket.
So, in this blog, we will explain why NBFC registration is so costly in India and how you can reduce it.
Advantages of NBFC Registration in India
First, even if it's costly, we cannot simply ignore the fact that NBFC registration can help you grow and scale. There are various advantages of NBFC registration in India, as explained below:
Once you get registered, your company can start giving loans and advances.
It can start trading in money market instruments like treasury bills, commercial papers, etc.
It can start engaging in the insurance business, retirement plans, hire/purchase, etc.
After the registration, The NBFC can engage in managing shares and stock portfolios.
Commencing an NBFC is profitable because people and businesses prefer NBFCs over banks for their fast and hassle-free banking procedures.
Why is it costly?
The NBFC registration can get costly because it includes not only the registration but also other aspects of the NBFC, right from the incorporation of the company to annual compliances. It is a very complicated and time-consuming process, hence the high cost.
Let's discuss it in a more detailed step-by-step manner.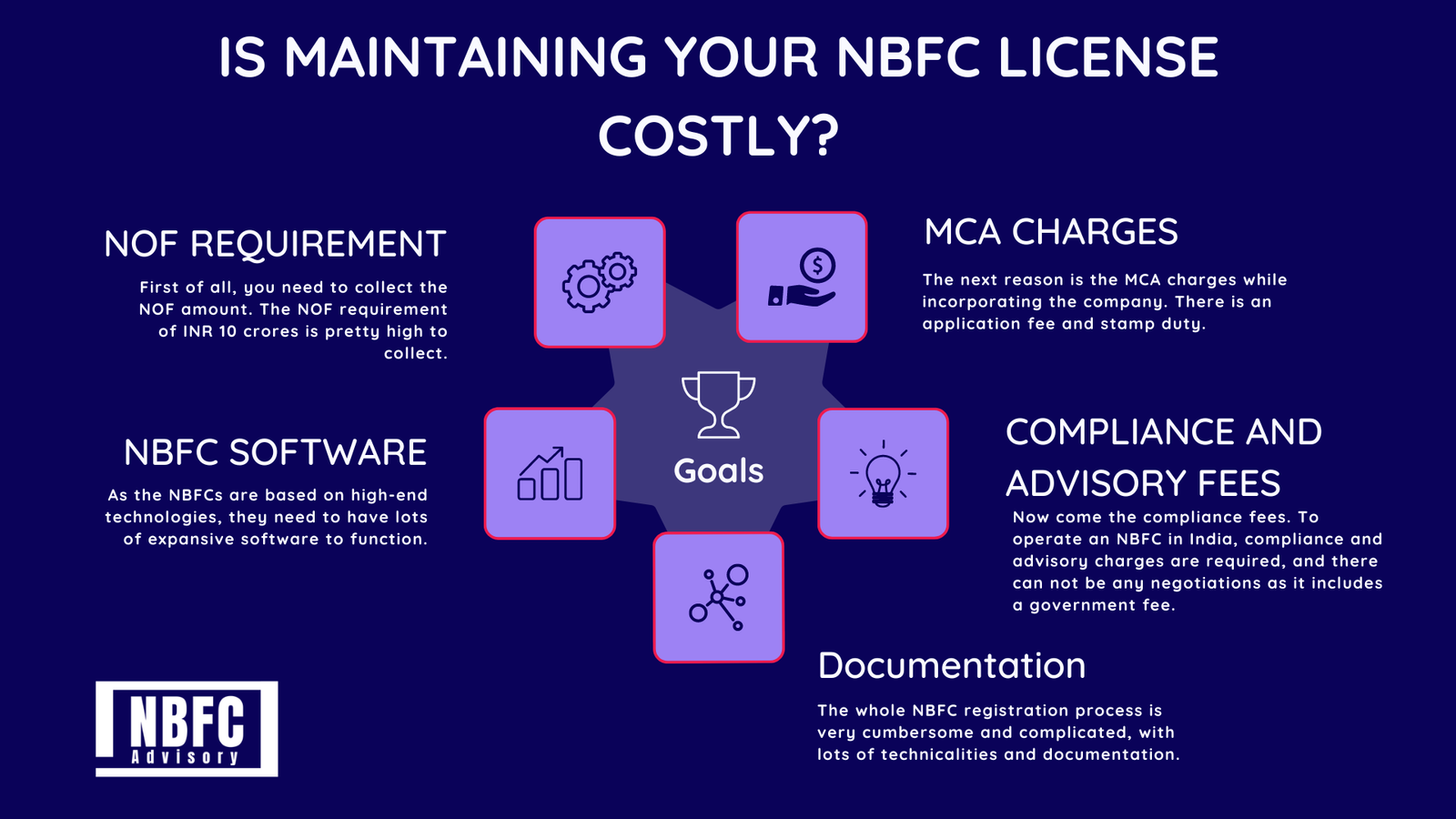 1. NOF requirement
First of all, you need to collect the NOF amount. The NOF requirement of INR 10 crores is pretty high to collect. Although it is not actually a part of the registration fees but can be considered a part of the whole process. This is because it is the basic eligibility for an NBFC registration.
2. MCA charges
The next reason is the MCA charges while incorporating the company. There is an application fee and stamp duty. Besides these, there are other requirements also, along with their respective fees.
3. NBFC software
As the NBFCs are based on high-end technologies, they need to have lots of expensive software to function. It is necessary for them to be technically equipped and have all the required software. In the absence of it, their registration application can be rejected.
4. Compliance and advisory fees
Now come the compliance fees. To operate an NBFC in India, compliance and advisory charges are required, and there can not be any negotiations as it includes a government fee. For reference, compliance refers to the regulatory requirements NBFCs must follow to ensure they comply with RBI regulations. This includes maintaining capital adequacy ratios, maintaining liquidity ratios, and submitting regular reports to the RBI.
Also, you'll need the proper business plan for the next five years while registering for NBFC. For that, advisory consultation with experts will be required, and it also charges a considerable fee.
5. Documentation
The whole NBFC registration process is very cumbersome and complicated, with lots of technicalities and documentation. There are tons of documents that are needed. Improper and partial documentation is the main reason for the registration application being rejected. So, it is advisable to take the experts' help which again results in a very high cost.
How to reduce the NBFC License Fees?
Amidst all these registration processes — It is easy to lose track of your budget. The registration process is quite complex and needs an expert at every foot door.
And you can not reduce the fees in the registration process, which are fixed. So, the only fees which can be reduced are the experts' fees. Thus, the best way to reduce the NBFC license fees is to take one-time expert advice to reduce various consulting fees, resulting in reducing the overall registration fees.
And you can not reduce the fees in the registration process; rather than consulting various different experts for different matters like consulting in general, designing a proper business plan, sorting out the documentation process, etc., you can consider taking help and consultation from a single firm. Which are fixed. So, the only fees which can be reduced are the experts' fees. Thus, the best way to reduce the NBFC license fees is to take one-time expert advice to reduce various consulting fees, resulting in reducing the overall registration fees.
Firms like us, NBFC Advisory, usually have a team of experts that help you in a more coherent manner so that you don't have to run from one expert to another.
FAQs
1. What is an NBFC license?
It is a legal permit for a company that allows its engagement in various financial activities and is issued by the RBI.
2. How long does it take to get an NBFC license?
It takes an average of 90-120 days to get an NBFC license. It might take longer in certain cases.
3. What are the criteria for NOF in NBFC?
Before the registration, all NBFCs must fulfill the 10 crores mark as their net own funds(NOF) along with other registration certificates. Otherwise, it can halt the registration process of the company.
4. What is the license requirement for NBFC?
To get an NBFC license in India, you must have to fulfill RBI guidelines and acts. The regional office will give the application for NBFC registration to the central office. After it, RBI grants NBFC registration only when the applicant company complies with prescribed requirements under section 45-IA. We have already covered it in depth here.
How we can help!
NBFCs are rapidly gaining their hold in the Indian market, and their share in financial activities is constantly increasing. If you plan properly and seek the right consultation, you can get the license hassle-free with the minimum cost and within 5-6 months.
But, a slight mistake can cost you a big chunk of money along with a couple of months. That's why it is advisable to consult the experts.
We at NBFC Advisory, with 8+ years of experience in advisory and counseling, can be your reliable partner in this NBFC registration journey. From providing a license for your NBFC to monitoring and providing legal & strategic advisory, our experts will be there for the overall development of your NBFC. Don't miss this opportunity.