Introduction
To run and execute any business's 5-year plan in its arsenal is as crucial as having a product—  it helps teams and investors understand and account for the business' core idea and prove its metal.
However, employing an actionable one takes time, and future uncertainty makes it even harder to lean on it. So efficacy is a must while crafting.
Experts say: not a step-by-step guide, but a five year helps to devise a big picture for a company to march forward! Thus, vision-focused strategies derive higher results.
In the blog, we have outlined a full-packed 18 steps guideline so you can easily create a 5-year plan for your business.
Let's get started!
TABLE OF CONTENTS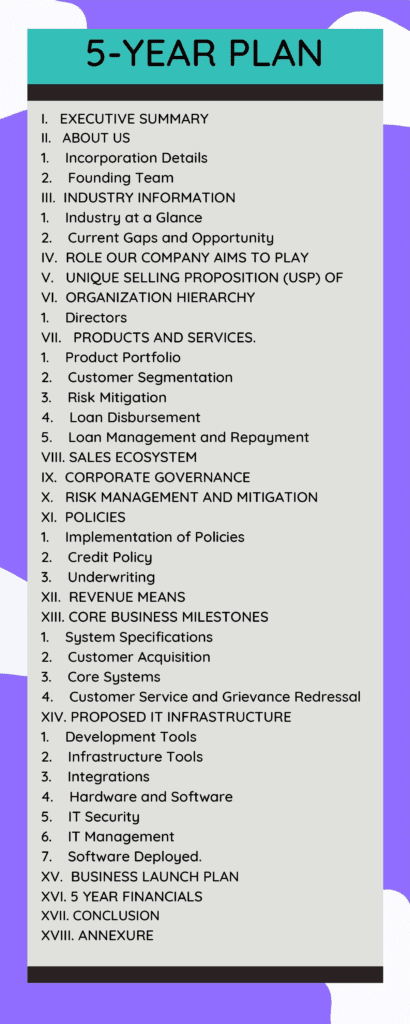 1. EXECUTIVE SUMMARY
An executive summary briefly describes the company and outlines integral aspects such as the company's main objective and mission, the offering and USP, product or service, target market, internals – management, advisors, departmental personnel, and c-suite executives' responsibility and duties.
One simple guide while writing it:
Keep it like a summary.
Keep the same terminologies throughout the summary.
Keep the alignment with other reports, and avoid inconsistent context.
2. ABOUT US
Includes incorporation details and founding team members.
The business incorporation process and the law the company is registered under and follows are mentioned in the incorporation section. For Examples, acts such as the companies act 2013, LLP act 2008, or Partnership act 1932.
The Founding Team section includes individuals, the personnel or rainmaker behind the company's idea, execution, and resources, along with their unique roles.
3. INDUSTRY INFORMATION
Industry at a glance
This involves an Industry brief – where the business operates and plans to expand or venture.
This can be classified as a brief about the following:
(i) Product and services
(ii) Target group
(iii) Industry size
(iv) Marketplace
(v) Geographic concentration
(vi) External threats and opportunities
(vii) Internal strengths and weaknesses.
Current Gaps and Opportunity
It involves identifying gaps in the market and filling them via a new product.
To do this, businesses perform
(i) In-depth market and product analysis,
(ii) Market velocity,
(iii) Distribution and demand assessment.
4. ROLE OUR COMPANY AIMS TO PLAY
Here businesses covey offerings via their product's features and benefits.
5. UNIQUE SELLING PROPOSITION (USP) OF BUSINESS
This includes your unique feature about your products or what makes you clearly different from the existing market and your competitors. Thus, it follows robust customer analysis.
Examples of USP would be:
Ease of Convenience
Reliability and trust
Quality.
Top-notch Customer Service
Thus, how we set us apart from
What new are we offering to the market?
6. ORGANISATION HIERARCHY
Defines the chain of command, duties, and accountability of organizational personnel – it flows in a pyramid and ladder shape from top to bottom. Roles such as administrative, executive, superior roles, and also entry-level employees includes.
7. PRODUCTS AND SERVICES
Product portfolio 
It should be backed by industry research regarding demand and supply and uniqueness and ROI on the product. These things should speak for why the product of our company should be invested upon.
Customer Segmentation
Customer segmentation follows four pillars:
(i) Demographics
(ii) Psychographics
(iii) Geographical and
(iv) Behavioural.
Risk Mitigation
It focuses on lessening the effects of threats and disasters on business sustainability. Businesses can easily avoid them by having systems and compensation laws.
Risk mitigation stages are avoiding, accepting, controlling, and transferring.
Loan Disbursement 
The disbursement period for banks is around a week or two; meanwhile, an NBFC can avail of the loan in mere few days. It can be sent digitally in form of personal loans etc.
Loan Management and Repayment 
It consists of LOS and LMS.
Loan Origination System (LOS) – a software enabling retail Banks, Credit Unions, and Credit Vendors to simplify lending.
Whereas Loan Management System (LMS) includes several facets of the loan portfolio from prospecting, closing, and thus monitoring.
8. SALES ECOSYSTEM
The sales ecosystem refers to the factors responsible for sales generation – personnel and resources.
9. CORPORATE GOVERNANCE
The set of all rules and regulations applies to external and internal factors that directly or indirectly impact all affairs regarding stakeholders, suppliers, customers, and government officials.
10. RISK MANAGEMENT AND MITIGATION
Risk identification and assessment, then strategic deployment to counter the possible risks, is called risk management and mitigation.
11. POLICIES
Business policies are guidelines to be in charge of the action. Thus, it includes:
Implementation of Policies
Credit Policy
Underwriting policies
12. REVENUE MEANS
Includes operations like sales of products or services, rents on a property, recurring payments, interest on borrowings, etc.
13. CORE BUSINESS MILESTONES
Business milestones are goals with dates and mention the person or team involved or responsible for its completion.
For instance,
Profitable Business Model.
First Repeat Client.
Realistic, Scalable Marketing Strategy.
Hire and Train a Solid Team.
Gain Authority in Your Industry.
Reach a Significant Number of Sales.
System Specifications
SRS is a document that explains the feature and behavior of a system or software application – it lists needs, objectives, constraints, expected features, deadlines, and budget for successful project management.
Customer Acquisition
Consists of attracting new leads, nurturing, and converting them; thus, the overall cost of the following steps is referred to as customer acquisition cost (CAC).
Core Systems
The C.O.R.E. Business System complies with executing critical business operations thus, make them sure to implement without any hurdles to increase business profitability.
Examples would be:
Project Management.
Human Resource Management.
Accounting and Finances.
Marketing and Sales.
Business Development.
Customer Service and Grievance Redressal
It outlines policies covering customer interaction and processing complaints.
The benefits • settle grievances in the shortest possible time; • Possible early stage handling • the aggrieved party derives satisfaction and loyalty towards business after seeking redressal.
14. PROPOSED IT INFRASTRUCTURE
Here you can define IT's role within the company and then identifies what's needed in the equipment, applications, and staffing.
Includes:
  Development Tools
  Infrastructure Tools
  Integrations
  Hardware and Software
  IT Security
  IT Management
  Software Deployed.
15. BUSINESS LAUNCH PLAN
It projects as a document when a business wants to launch its new product and feature among customers – moreover, it outlines tasks and timelines. Categories further into – very short plans, mini-plans, presentation plans or decks, working plans, and what-if plans.
16. 5-YEAR FINANCIALS
It includes the business's past, current, and projected financial state. It has all the numbers and data to gauge a business's future and make a case for potential investors.
17. CONCLUSION
A business plan conclusion summarises a business's strengths to convince the reader about the company's success. It must create to get funding or investors – referencing the executive summary.
18. ANNEXURE
The last section of the business plan includes documents that give additional information or proof of the statements or claims made by research in the business plan.
How we can help!
In order to set your business with a roadmap you look up to and rely on every time while imparting crucial decision marking for your business scalability – then a five-year projected plan cum path is a must. Nonetheless, getting funding and hitting the right chord for investors and stakeholders – is non-negotiable for further success.
That's why and how we at  NBFC Advisory, with 15+ years of experience in advisory and counseling – assist businesses to craft actionable 5-year plans, so they march forward with projected steps and elevate their ROIs by nudging favorable funding and investments into their business pipeline.
With the insights and strategic deployment —our team of professionals is a one-stop solution, so you never miss an opportunity.
Book a call today!